Tourism Guide
In every flowering season, the plum blossoms all over the mountains,
presenting snow-white and pretty landscape everywhere,
which makes people call it "Meiling" of beautiful scenery.
Tourism Guide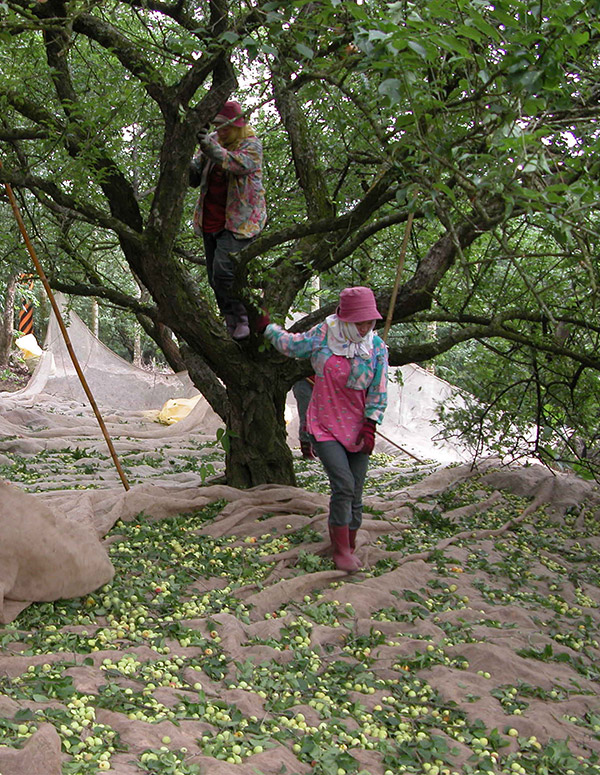 Plum picking
Nansi Township, Tainan County has beautiful scenery. Meiling, about 600 meters to 1000 meters above sea level, is suitable for planting plums. The popular activities in Meiling tourism are to appreciate plum in the winter and pick plum in the spring. The plum in Meiling, Tainan blooms earlier than the north part so that people in southern Taiwan could have a sneak peek. Soon, after the flowering period passed, the plums are all over the trees. In April, the plums are in abundance. People may take the Qingming consecutive holidays to visit the mountains and enjoy the fun of collecting plums.
After April, the plums turn ripe and the plum fruits are growing in clusters. The green plums are hanging high and those of fifty to sixty percent ripe will be harvested. Plum picking is a labor-intensive job. It will take forever to pick one by one. Therefore, plum farmers consisting of a group of three or five people will place a large piece of plastic cloth under the plum tree, knock the fruit with long bamboo poles, let the fruit and leaves fall. When the fruits of the fruit tree is almost down, the following work will be gathering plum and packing in plastic mesh bags. After processing, they are sent to green plum processing plant for treatment.